The Bestselling Books of 2018 (So Far)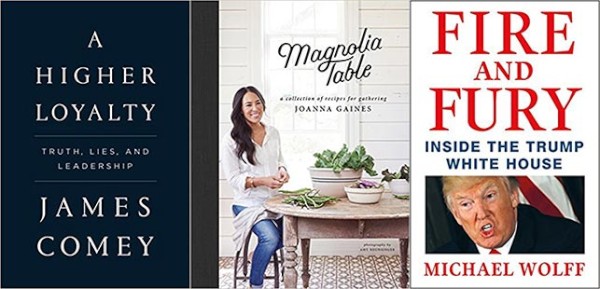 As befits one more year of strident political discussion dominating public consciousness, political books sold well in the print sector in the first half of 2018. Macmillan, in particular, has seen its books perform well, with Michael Wolff's tell-all Fire and Fury: Inside the Trump White House (Henry Holt) settling in as the year's bestseller to date and James Comey's A Higher Loyalty: Truth, Lies, and Leadership (Flatiron) making the #3 spot. Even political parodies did well: Chronicle Books's crashed children's title Last Week Tonight with John Oliver Presents a Day in the Life of Marlon Bundo, written by Jill Twiss and illustrated by E.G. Keller, which details a fictional same-sex romance between U.S. Vice President Mike Pence's pet rabbit and another rabbit named Wesley, came in at #6.
Otherwise, children's literature and other adult nonfiction books dominated the top 10. A cookbook, Joanna Gaines's Magnolia Table: A Collection of Recipes for Gathering, was the #2 bestseller in the year so far, and nonfiction books by Jordan Peterson and Jen Sincero placed at #7 and #10, respectively. Children's authors Madeleine L'Engle, Dav Pilkey, and Dr. Seuss all saw books in the top 10, too. The only adult fiction title to hit the list, at #9, was James Patterson's collaboration with former president Bill Clinton, The President Is Missing. Even fiction, it seems, can't escape the clutches of politics.
read more/source: https://www.publishersweekly.com/pw/by-topic/industry-news/bookselling/article/77459-the-bestselling-books-of-2018-so-far.html