Clear Retortable Plastic Can Debuts
McCall Farms is first to commercialize this three-piece coextruded plastic can. Product visibility is the key, but it certainly helps that for the most part it's a drop-in replacement for steel cans.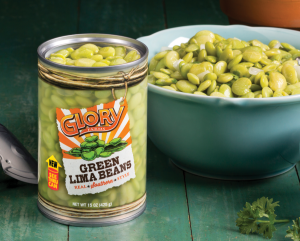 For many years now the idea of a clear retortable plastic can suitable for a wide variety of food applications processed in continuous rotary equipment has been nothing short of the holy grail where the packaging community is concerned. A few such cans have managed to make it to store shelves, but it's safe to say that for the most part, clear retortable plastic cans have been slow to take hold.
That may change with the launch late last year of seven bean varieties under the Glory Farms brand from Effingham, SC-based McCall Farms. The beans are in a clear, three-piece, five-layer coextruded can. Steel top and steel bottom are seamed on and then induction-sealed for good measure.
The launch is significant because it marks the commercial debut of the TruVue® can from Sonoco. That firm's Steve Gendreau, Vice President Sales and Marketing Global Plastics, joined McCall Farms' Marketing Director Annie Ham in a February 8 presentation describing the launch at The Packaging Conference, produced by Plastic Technologies, Inc. and SBA-CCI, Inc.
Differentiation on the store shelf is the key attraction that this container holds for McCall Farms, says Marketing Director Ham. "We saw this innovation as an opportunity to differentiate ourselves on the canned vegetable aisle with a new transparent package that gives the consumer the cues of freshness and superior quality that they can see. In addition, we received input from several area retailers that they would be interested in testing this new package."
It certainly helped, she adds, that Sonoco, a $5 billion global packaging company and innovation leader, was just a few miles down the road in Hartsville, SC. "Given their headquarters location and our long-standing relationship with them, they were the ideal partner for this project," says Ham.
read more/source: https://www.packworld.com/article/food/canned/clear-retortable-plastic-can-debuts