Worldskills Kazan: Heidelberg Promotes Up-And-Coming International Talent in the Print Industry
Gold medals for Russia and Austria, bronze for Switzerland, and Medallion for Excellence for
Germany in the "Print Media Technology" skill
All equipment and almost all consumables provided by Heidelberg
Promotion of up-and-coming talent for future employees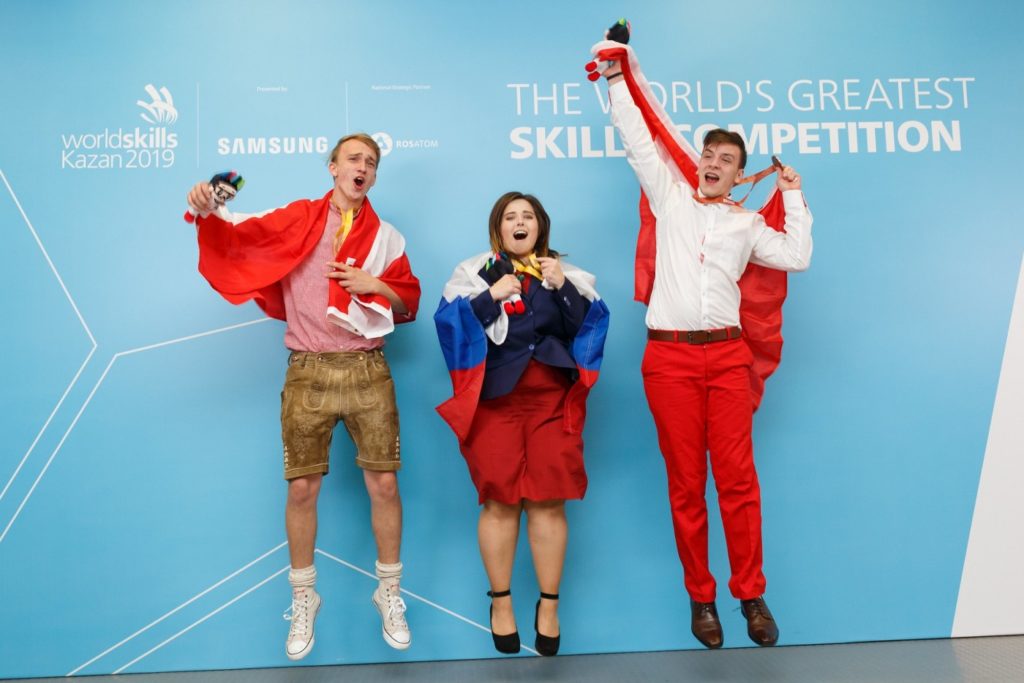 The figures for WorldSkills 2019 in Kazan, Russia speak for themselves, showing the importance accorded to vocational training worldwide. Kazan, situated 720 km to the east of Moscow, welcomed over 1,350 young skilled workers – the highest number yet – from 63 countries competing in a total of 56 disciplines in the 45th WorldSkills competition from August 22 to 27, 2019. The breathtaking opening ceremony in the specially built "Kazan Expo International Exhibition Centre" was in a league of its own, topped only by the closing ceremony in front of 35,000 guests. Russian President Vladimir Putin acknowledged the achievement and significance of WorldSkills in his speech.
In the "Print Media Technology" skill, 15 participants from 15 countries put their talents to the test. Heidelberger Druckmaschinen AG (Heidelberg) supported the skill with manpower and machines. The equipment, consisting of three Speedmaster SX 52 presses (two four-color and one two-color), two Versafire EV digital printing systems with the Digital Front End, a Suprasetter A75 platesetter, and a POLAR cutting machine, was provided by Heidelberg. Over 90 percent of the consumables required, such as ink and paper, were also provided by Heidelberg. The Russian participant was trained and coached by Andrey Slobodchikov from Heidelberg Russia, with the German participant receiving the same attention from Bernhard Nahm, Head of Vocational Training for Media Professions at Heidelberg. The setup and breakdown, as well as the ongoing organization over the four days, were overseen by a German-Russian organizational team from Heidelberg headed up by the two workshop managers Stephan Bös and Jürgen Fink.
Heidelberg Russia also oversaw the national competition, where the Russian candidate was selected.
read more/source: https://www.heidelberg.com/global/en/company/press_1/press_release/press_release_details/press_release_124032.jsp