Xerox's Focus on Customer Productivity Highlighted with Seven RED HOT Technology Recognitions Ahead of PRINT 18
Accolades for Xerox production presses, workflow solutions, and XMPie software lead all competition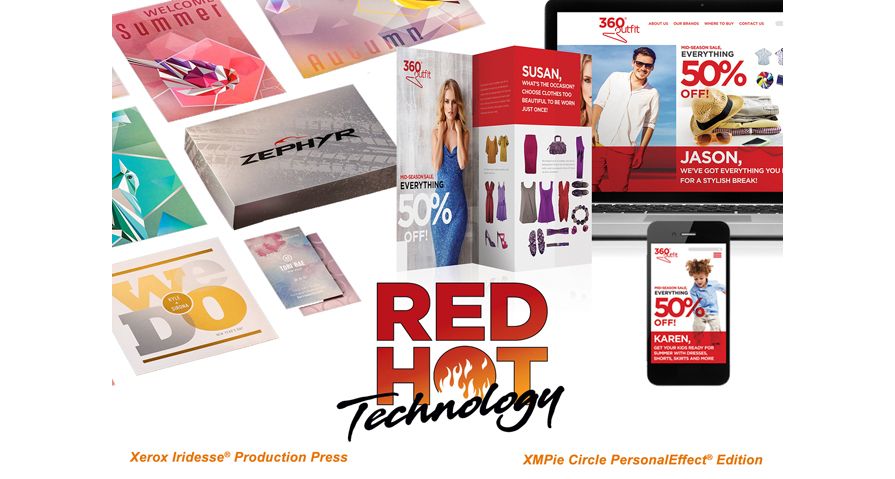 From stunning metallic output to batch personalization capabilities, Xerox's latest graphic communications innovations connect the physical and digital to give print providers the tools to set themselves apart from their competition. These innovations – including the Xerox Iridesse® Production Press and XMPie® Circle PersonalEffect® Edition – head to PRINT 18 as RED HOT Technology honorees, receiving special recognition from the Association for Print Technologies as "must see" attractions at the show.
Xerox's three RED HOT Technology recognitions are:
Xerox Iridesse Production Press with Exclusive Color FLX Technology – the press has a unique six-toner-station configuration that combines four-color printing with up to two specialty dry inks including gold, silver or clear, that give customers the flexibility to deliver eye-catching metallic results, keeping clients coming back.
Xerox Iridesse Production Press Augmented Reality Demonstrations – a new way for customers to experience both the keypress technologies and virtual "press in a room" on-site in their facilities.
Xerox FreeFlow® Core Iridesse Accelerator – Xerox is automating the preparation process for print jobs with pre-built workflows in FreeFlow Core that allow print providers to take an existing print job and automatically change elements to gold or silver to add a visual enhancement.
Customized Envelope Feeder and Conveyor for the Xerox Versant® Family of Presses – an affordable innovation that simplifies envelope production by ensuring continuous, uninterrupted printing and unloading.
read more/source: https://www.news.xerox.com/news/Xerox-wins-seven-RED-HOT-Technology-Awards