Postal Service to Dedicate Christmas Carols Forever Stamps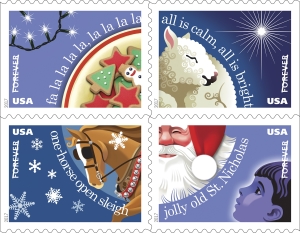 The U.S. Postal Service celebrates the Holiday season with four new Forever stamps featuring images that illustrate a major theme of each of four beloved Christmas carols: "Jingle Bells," "Deck the Halls," "Silent Night" and "Jolly Old Saint Nicholas." Familiar lines from each song highlight the individual stamps. The shades of blue in the backgrounds of the stamps evoke the evening scenes from the four carols. This booklet of 20 stamps includes five of each design. The late Howard E. Paine was the art director. Artist Steve McCracken of Winchester, VA, created original art for the project.
The stamps may be pre-ordered in early Sept. for delivery shortly after the Oct. 5 issuance at usps.com/shop.
read more/source: http://about.usps.com/news/national-releases/2017/pr17_051.htm